The Company
BlueMesh is an innovative, web-based software start-up founded by two seasoned tech entrepreneurs. BlueMesh helps people visualize, understand, and interact with the technologies they build. The platform allows you to build a visual representation of your software and tie it directly to events occurring in your system. Real time feedback is tied directly to visualizations of your system, and allows your team to share and collaborate in real time. Co-Founder and CEO Shane Luke has a proven track record of leadership, with extensive experience leading product development and strategy at Recon Instruments, Nike, and EA Sports.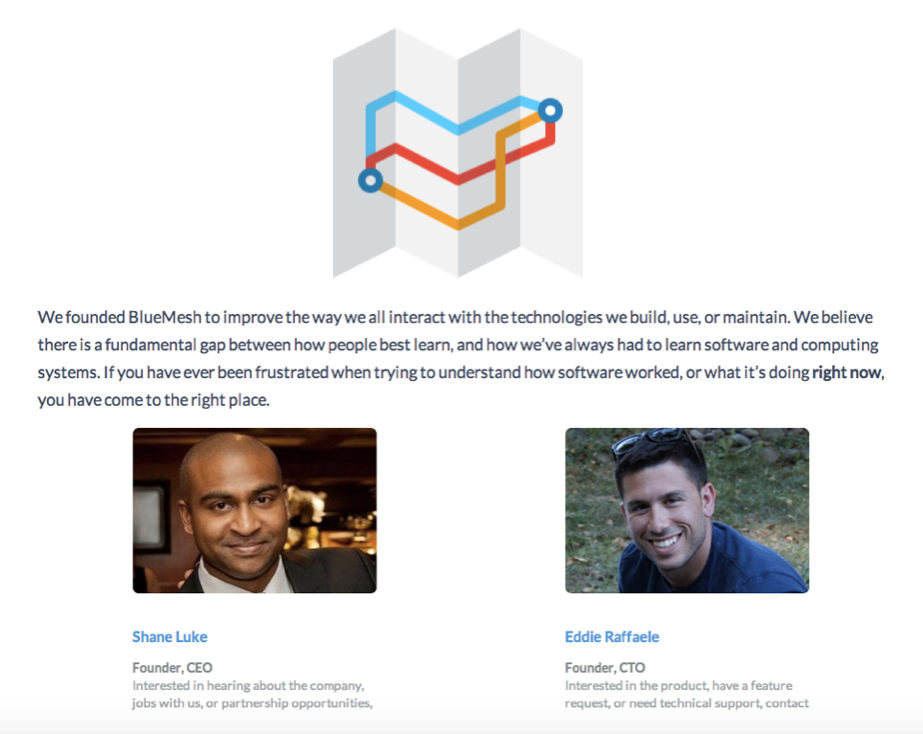 The Need
BlueMesh is a well-funded, early-stage start-up on the hunt for talented young people. At BlueMesh you can work fast, be close to your customers, and deploy new things daily. Best of all, you get a stake in the company and share in their success as they grow. If you love computer tech, working hard and being independent, they want to hear from you. Building out the right team is critical for the success of any organization, especially tech start-ups. Shane is on the lookout for talented designers and developers to hire and give an equity stake in his young company.
The Project
BlueMesh's Riipen Project was to improve the 'getting started tutorial' for the end user, where the project itself was used by both the company and candidate to assess each other and whether there was a potential fit between the two. Shane was very straight forward with the intention of the project and even offered a cash stipend to the right candidates to complete the project even if there wasn't an immediate fit for joining the team.
"Our real goal is to find a great new team member to join us, and grow with the company. We offer competitive pay, significant equity in the company, and the ability to work very closely with end users on the front lines of our product." - Shane Luke, CEO BlueMesh
The Riipen Effect
Once the project was finalized and posted, the Riipen team promoted it through their channels of computer science faculties and close partnerships with coding bootcamps such as Lighthouse Labs. Within days of the project being launched, a recent graduate of Lighthouse Labs grabbed Shane's attention by connecting with him on Riipen. The recently graduated Marly Guha completed the Riipen Project and has since joined the BlueMesh team full time.
"When I decided to change careers and become a software developer, I knew it was going to be tough to find that first job after graduation. I can sincerely say that I found my dream job with a young start up, and it was through a Riipen project." - Marly Guha, Lighthouse Labs Graduate
"I've done a lot of hiring in my career, and I know how hard it can be, especially in high-skill tech jobs, to find someone who fits with the team, and can really perform. Resumes border on useless, especially for new job seekers, and it really takes a skilled interviewer to nail hires consistently. The Riipen service offers a powerful, mutually beneficial way for employers to connect with and assess the next generation of superstars who will power our economy. I found my company's first hire there, and I am going to be back every time I need one." - Shane Luke, CEO BlueMesh Inc.
This was a guest post by one of Vancouver's most interesting startups right now, Riipen. It was originally posted on their blog here. If you're a recent gradate (especially Lighthouse Labs graduate) looking for work, or an organization still using outdated hiring tools, check them out!